The blog posts includes affiliate links. Please read my disclosure policy here.
We searched (and searched and searched) for the perfect beach cottage to call our own in Rockport, MA. Last summer we just had a seasonal lease and before that I rented a lovely cottage on the harbor. My other half and I made the decision last October to find a year-round rental that would work for us both. Our living situation is rather fluid to begin with. We don't have pets or children (Read: FREEDOM!) and Jason has to be in New England for work for a portion of the year and wanted to be close to his family. And I just so happen to like being in New England for that same portion, the summer, so we have been trying to figure out how to occasionally be in the same state together, despite our hectic work schedules. A little Charlottesville. VA, a little Rockport, and some rendezvous on I-95 and even occasionally in Puerto Rico. So there ya have it, stalkers. Come find me!
If you want to know why we had to hurry up and get settled in New England ASAP and buy everything for this new cottage, check out this blog post that may make your head spin. Save it for when you kind of want to feel depressed… orrrrrrrr just skip it entirely and just focus on the cuteness of this beach cottage porch.
The feature that absolutely SOLD this historic cottage to us is the spacious screened in porch with ocean views across the street! It spans the width of the house and is like having a second living room in the warmer months.
Let's be real- comfortable and stylish patio/outdoor furniture is SO SO SO overpriced. Always. The things I want are always insanely expensive (OMG SERENA & LILY PLEASE SPONSOR/ADOPT ME) so I knew I would have to get creative to transform this space on a budget. But given how often I knew we would be using it I was willing to spend a bit to get exactly what I wanted for the porch. I needed to create a comfortable space that I could happily work in all day long and also host guests for get-togethers; I needed morning-coffee-meets-home-office-meets-sunset-wine-meets-dinner-parties. A tall order!
Our landlord generously loaned us these wicker lounge chairs, but the whole space just felt very blah with the dark wood and dark furniture. Ideally I probably would have gotten some slimmer, lighter teak lounge chairs with cushions but these are comfy and, best of all, free! So I knew we needed some color injected stat to liven the space up. And this is what I went with…
[Links at the bottom of the post to purchase all of the pieces]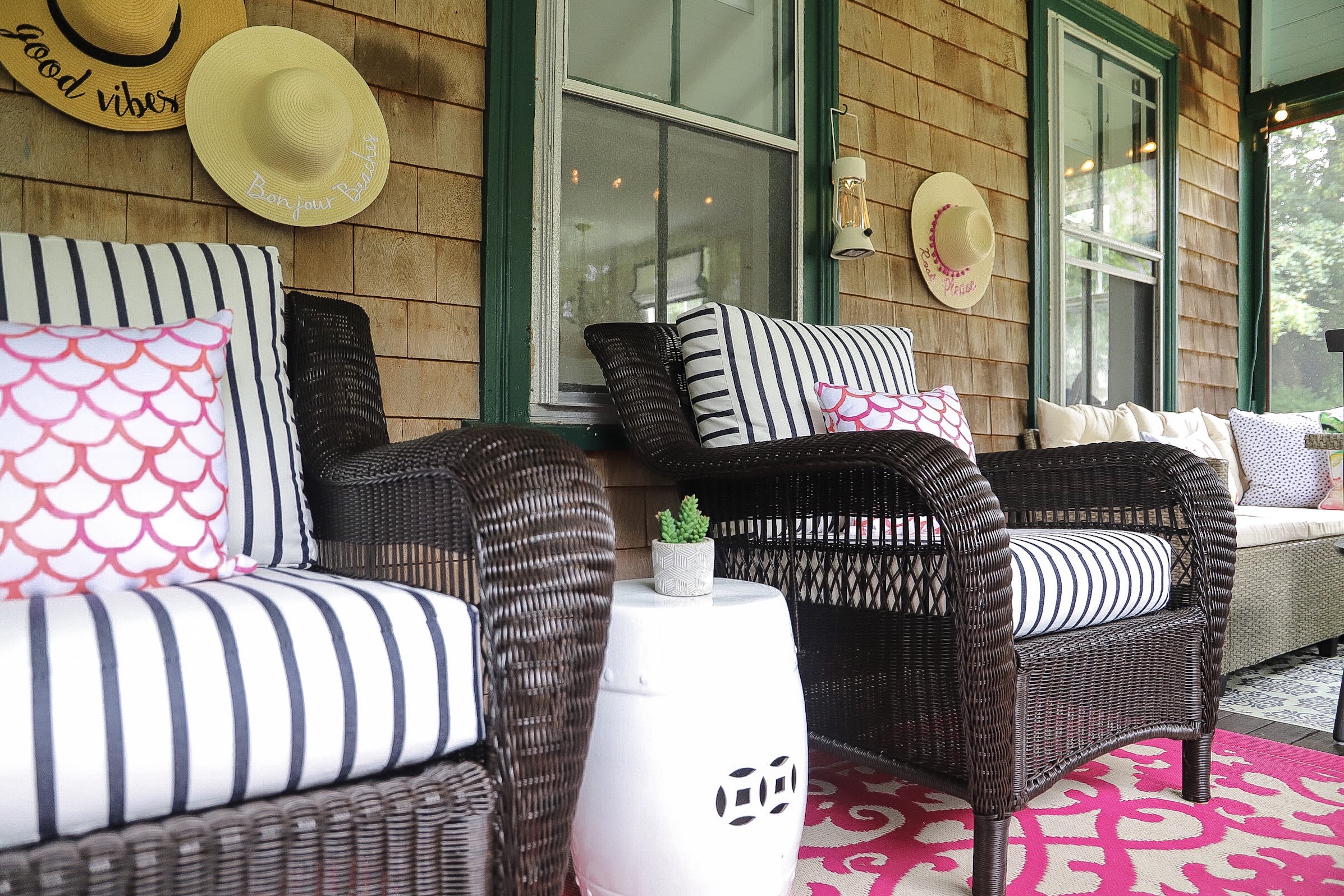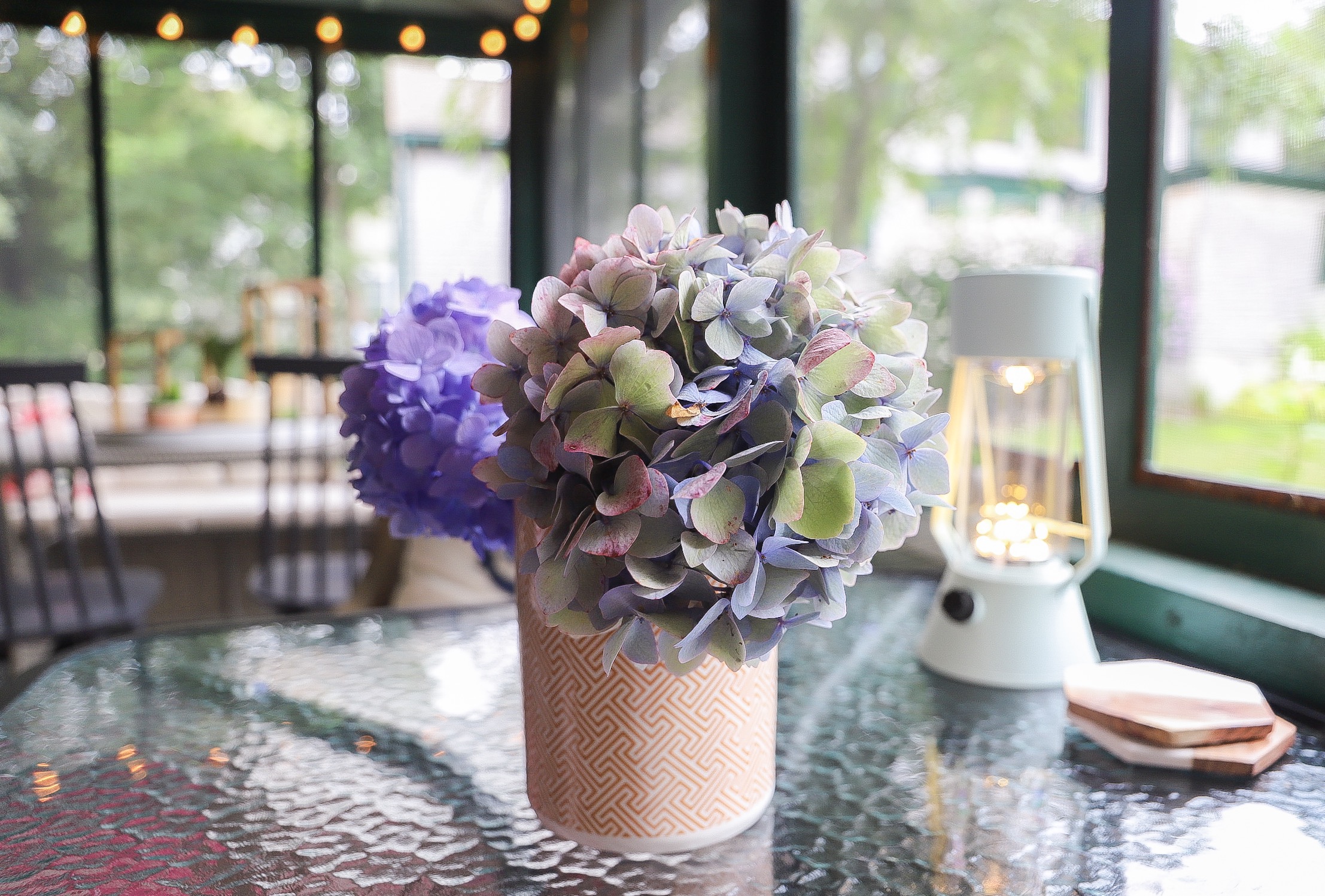 Picking The Palette
While we are in New England, I wanted to do something that felt a bit coastal but wasn't too literal. I toyed with a standard New England colors- reds, blues and whites and some lobsters strewn about, as you do up here. But everything I was finding in that palette just felt too stuffy and I really wanted this space to feel fun!
While sitting on said porch one day I put together a casual design board layering the colors and patterns that I wanted for the rugs and cushions. I knew it was a bold move to mix so many things but I am thrilled with how it turned out! I wanted a teensy bit of nautical and these Sunbrella Lido Indigo Stripe cushions from Wayfair totally give off a preppy nautical vibe, and I like the addition of the leather straps on the hanging planters that we got from Target. Tiny nautical touches!
With the porch having a mint green ceiling and emerald green trim on the windows, I thought pinks would make a really fun accent and definitely are an unexpected choice for the space. I wanted resilient, easy-to-store rugs with cool patterns and went with the pink and cream one which is a straw mat (but looks and feels more high end) and then the navy blue and cream thicker mat. Both can be easily cleaned and roll right up for wintertime storage!
Indoor/Outdoor, By the Seashore: The Core Pieces
Sectional sofa/table combo, cane chairs, spindle back chairs OH MY.
I also wanted to maximize the space and jumped all over this sectional sofa patio set when I found it online; it was the exact dimensions of the space we needed to fill! I also love that it is great for lounging- I can easily work on my laptop at it all day, and it can also host a dinner party. I am a huge fan of furniture that does double-duty, especially in a cottage as small as this one. It is a steal considering that you get the large sectional, all cushions and the table for the price. I have also found that the cushions can take a beating (rain and dirty constantly come in on them and they hose off really nicely) and they are really comfortable. I have even gone to nap town on this set. Zzzz….
While these gray/blue navy spindle back chairs and the cane chairs aren't necessarily "outdoor" (the cane ones though are more indoor/outdoor) this porch really isn't subject to too much weather and I think they will be resilient enough to last out here. Love that we can move them inside when we have more company during the winter!
The 2 seat table was never a part of the plan - I've had it sitting around on our back patio by our grill- and I added it before we hosted a family dinner party the other week and have decided to keep it! This 4 seat dining set that is always my go-to recommendation when people ask for a cheap and easy patio fix. The chairs that come with it are really comfy (and stack for easy storage when not in use) and you can't beat the price point!
Accessories
Accessories are always where a space really comes together. Despite the color in the rugs and the pattern of the cushions, the space still felt really bare.
So will I do a whole post about the merits of decorating with hats? You betcha. I grabbed a few up while out and about at various stores but linked them below so you can purchase online. I thought some fun floppy hats would be a great space filler for our indoor space while we curated a selection of local art to hang. What a cheap, easy way to liven up a space!
Pillows are just an excellent way to layer texture and pattern and they are SO easy to change up later on. I fell in love with these orangey-pink scallop ones on Wayfair and then I actually found the other ones and the succulents at HomeGoods but linked some similar below.
I am a huge fan of ceramic garden stools. Talk about versatile little pieces! They are resilient and can be indoors/outdoors, hold your coffee as an end table or make a cute plant stand.
Bistro lights were a necessary addition around the perimeter and I threw in some lanterns with flameless flickering candles to create a pretty glow in the evening. A white serving tray, some faux succulents and these awesome leather strap hanging planters really helped to complete the space!
Shop all of the links in the pics below!
So who wants to come sip some Rose with me out here on some early fall nights?! Comment below and tell me your favorite part of the space and what you would be sipping out here during the sunset!
CHEERS!
Becky